The term organic SEO or "SEO" in general is widely used in the marketing and advertising industries. But while most people would know the importance of search engine optimization or SEO, others, particularly those unfamiliar with marketing jargons, might not know why.
This article discusses what organic SEO is, its importance, and what it can do for businesses. In addition, it will also provide a guide on how you can implement organic SEO strategies and improve your website's ranking on search engine results pages (SERPs).
Is SEO Organic or Paid?
SEO is the internet marketing strategy that amplifies a business's online presence. Accordingly, this technique is entirely organic, which means it yields unpaid ranking on SERPs. Implementing an organic SEO strategy means employing non-paid practices to ensure a website ranks organically and appears on the first page of SERPs. This can help your website to have increased website traffic, generate more leads, and boost e-commerce sales.
What Distinguishes Organic SEO from Non-Organic SEO?
The main difference between organic and non-organic SEO is the cost and the ranking it yields. In general, it is impossible to completely buy high organic search engine rankings, and paid and unpaid search results will populate in different places on the SERP.
Search engines compile a relevant list of paid and unpaid results when you search for information. Generally, organic or unpaid search results appear at the very top of SERP or below the top three paid advertisements. These may also appear below a featured snippet, Google Ads, Google Local Pack, or a "People Also Ask" section.
Implementation of SEO strategies varies depending on your desired SEO. Therefore, getting professional SEO services is an excellent idea, as they will know the best organic SEO strategies that can help your website increase its visibility on search engines and enable you to grow and scale your business.
What is Google Adwords?

Google Adwords or Google Ads is an online advertising solution that allows enterprises to promote their products and services on Google Search, YouTube, Google Maps, and Google search partner, among other websites. It enables businesses to choose specific goals for their advertisements (like increasing website visits or phone calls), customize their budgets and target audience, and control when their ads start or stop.
What is Google Local Pack?
Google Local Pack is a listing of three local businesses that Google compiles together and places above organic search results in SERPs when a platform user searches for local products or services. Google puts together local results based primarily on relevance, distance, and prominence, and depending on what is in the Google My Business (GMB) Directory. Therefore, business listings that have not activated or updated their GMB are unlikely to appear for local searches.
What is Pay-Per-Click (PPC), and How Does It Work?
Pay-Per-Click (PPC), which is also referred to as Cost-Per-Click (CPC), is the internet marketing strategy in which businesses pay ad publishers a fee when their ad is clicked.
Moreover, there are also other ad models that you can use to drive traffic to their websites:
Cost Per Impression – Businesses pay the ad publisher based on how many times their advertisement was shown or seen by platform users;
Cost Per Engagement – Companies pay the ad publisher when a platform user interacts with their campaign, such as by watching a video ad.
How Does Organic SEO Work?
Organic SEO is a marketing strategy that utilizes a range of techniques, such as on-page website optimization, keyword research, link building, and content creation, to help a business website rank at the top of organic or unpaid SERPs.
Importance of Organic SEO
The ultimate goal for search engines like Google is to find the best possible or most relevant results for every user's query. Consequently, implementing organic SEO is imperative if you want your website to rank high in SERPs.
While Google Ads, Google Local Pack, and other paid search strategies can place your website on top of search results. But only 15% of traffic clicks are going to these paid search results, and the remaining 85% are on organic results.
Accordingly, the first search result page of Google captures 71% of clicks. This has even been as high as 92% in recent years. Website clicks then drop to below 6% on the second page of search results.
With organic SEO, you can boost your website's ranking, even increasing its position on the first page of SERPs. Aiming to rank first on SERPs is the ideal goal, as the first five listings in search results receive about 67.6% of clicks, and the remaining five only receive 3.73%
What are the Five Factors that Affect Organic SEO Rankings
Search engines like Google, Bing, and Yahoo! have algorithms that help them identify what listings appear on SERPs. These systems also consider many factors when determining a website's ranking on a search engine. Such include:
Website security
The loading speed of the page
Mobile-friendliness
Technical aspects of the website
The ratio of the website's internal to external links
Content quality
Keyword relevance
With organic SEO, specialists conduct an SEO audit, which is the process of checking and optimizing a business website for technical and on-page SEO. Knowing how to conduct an SEO audit is advantageous in identifying issues that need to be fixed and undertaking SEO opportunities for the website.
Listed below are the things you need to check on your website and the actions you need to take to ensure a robust organic SEO strategy.
Review Title Tags and Meta Description
When conducting on-page SEO optimization, you need to check your web page's technical back end. Usually, Google's algorithm determines if a piece of content is relevant to a person's query or if the page will add the most value to their search by looking at the page's title tag and meta description. Accordingly, among the other technical aspects of the page that Google looks at:
Header tags (H1, H2, etc.)
Keywords
Internal and external links
And more

Optimize the URL Structure of Your Web Pages
URL structure matters in SEO – this can be a powerful tool to achieve your organic SEO results. Your web page's URL can give potential website visitors an insight into what the page is about and help boost click-through rates wherever the content is shared.
Here is how you can optimize you're the URL structure of your web pages:
Use lowercase when creating URLs
Hyphenate between words, but avoid using underscore
Use relevant keywords as the "category" name
Avoid using unnecessary words
Keep your URL shorter to make it user-friendly and easier to share.
Quality & Quantity of Content
The Content Marketing Institute defines content marketing as the strategy focused on creating and disseminating relevant, valuable, and consistent content. This attracts and retains a business's target audience and drives profitable customer action.
This marketing strategy is an integral part of organic SEO – SEO is not possible without content. But the content you create must be useful and relevant to search queries for it to organically rank on SERPs. You need to create content that is informative, credible, high-quality, engaging, and more valuable than other sites.
These elements will help set you up for success in organic SEO. Without them, your content won't be of much value to search engines.
Stay Up-to-Date with Algorithm Updates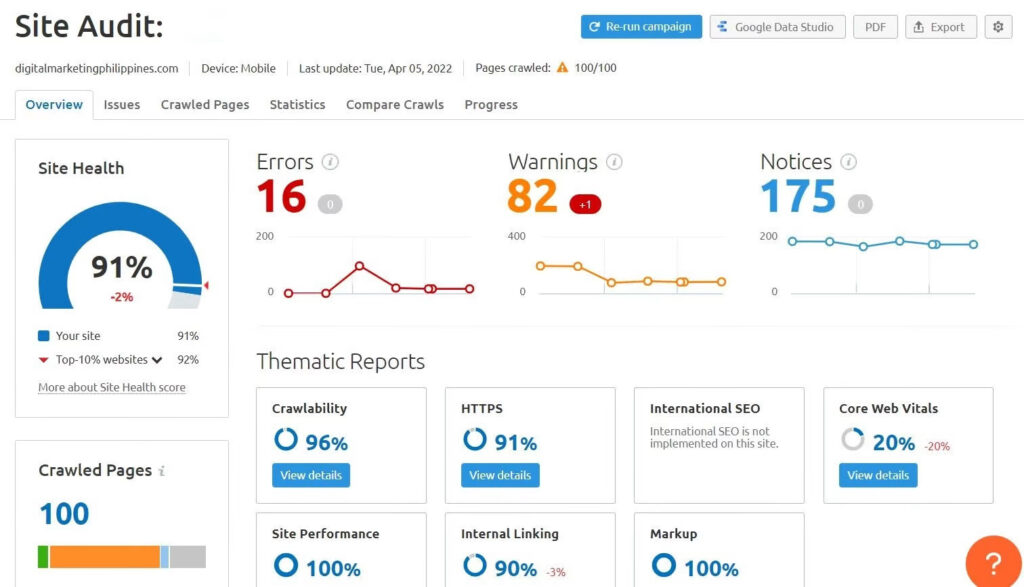 A search engine's algorithm dictates how websites rank on SERPs. For instance, Google's search algorithms comprise a series of systems that scan the internet and rank sites according to how well websites follow the search engine's SEO algorithms. These systems look at the following factors to determine which page has the most useful information and is relevant to their inquiry:
The words of your query
Relevance and usability of webpages
Quality of content
Context and settings
Moreover, to better prepare for and understand future algorithm updates, it is recommended to look at major algorithm updates from the past years. This will also help you better understand search engine rankings and what factors will have the most impact as you optimize your website's content for algorithm updates.
Have a Clear SEO Strategy
Having a clear plan on how you will implement your SEO campaign is important, as there are many elements to take into consideration to ensure that your campaign will run successfully.
However, it can be challenging to develop a strong organic SEO strategy on your own. To address this, you can partner with White Label SEO to help you start and assist you through your SEO campaign.
Our team of experts and specialists can help you with:
The management of your SEO campaign
Keyword research
Link building
Creation of SEO-friendly and user-targeted content
Website audits
And more
9 Ways to Improve Your Organic SEO Ranking on Google and Other Search Engines
Organic rankings always mean more quality traffic which is easier to convert to leads or sales.
There are some best practices that can be followed to improve the website's ranking in search engines.
It can be overwhelming to create a comprehensive organic SEO strategy.
It is difficult to improve your SEO rankings without the assistance of an SEO team.
SEOReseller will do the hard work for you and your client so that your business can reap the benefits.
We'll be describing a few of the practices we use to increase organic rankings.
#1: Competitor Analysis
A site audit and analysis of competitors is a great place for starting an organic SEO strategy.
You can find out the ranking of your competition for
Plan how to rank them higher
Search for keywords that have not been used yet.
Create superior content to fill in the gaps left by competitors.
This step is crucial in understanding the SEO standing of a company against its organic competitors.
#2: Keyword Research
A key part of any organic SEO strategy is keyword research.
Your research can give you valuable insights into:
How you rank for keywords
What keywords are the easiest to rank for?
What keywords are your competitors ranking for?
It also helps you to see what people really want so that you can create content that meets their needs.
Relevant keywords with high search volumes are a great way for a company to be found on the web. However, keywords that have lower volume and difficulty can also be very valuable.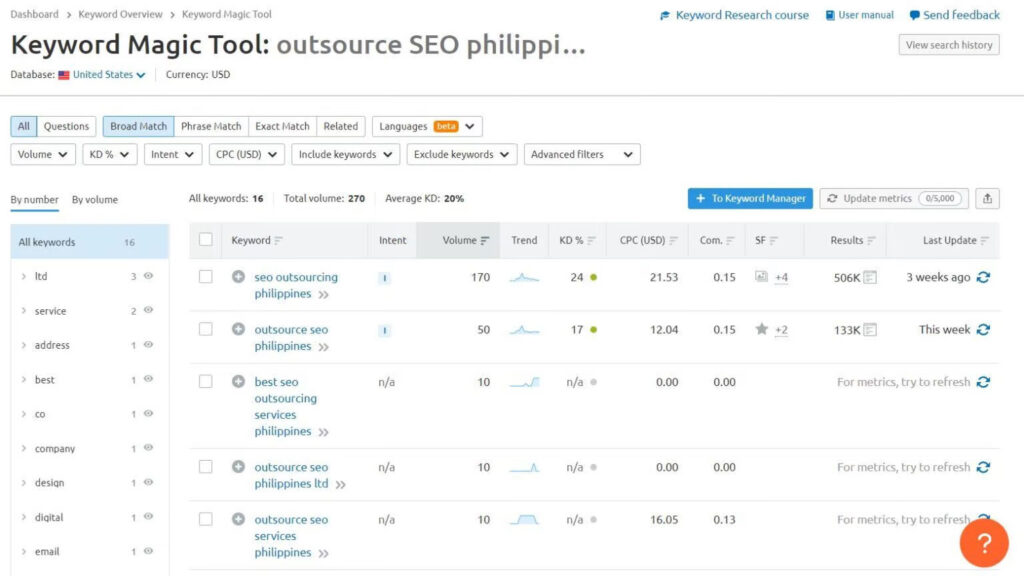 Keyword tracking and keyword research can be used to:
Analyze and understand the keyword strategies of your competitors
Find new keywords opportunities
Check out your backlink profile
Avoid the hassle of a manual audit by outsourcing your SEO work
Monitor the SEO progress of your content over time
Visualize the data
A strong SEO campaign or strategy will include knowing where your website ranks in search engine results pages for specific keywords.
This will help you understand what is working and what is ranking.
SEO specialists know how to identify which keywords should be used in any SEO strategy.
SEOReseller is available to help small businesses and agencies who are looking for larger clients.
#3: Create Content
Creating content that is valuable to the reader is key to an effective SEO strategy.
Content is not about advertising products and services. It's about providing useful and relevant content to potential customers that will help them solve their problems and answer their questions.
Quality content is the key to any website's success.
Websites must provide content that meets users 's needs and should be optimized for search engines.
SEO optimization includes:
Shorter, skimmable paragraphs
Bullet point lists
Headers, subheaders, etc.
Images and screenshots can be used to break up the text
Sentences of mixed length
You need to ensure that your posts are
Your readers will appreciate your contribution.
They are able to quickly digest the information.
#4: Enhance User Experience
Poor-quality websites are less likely to rank.
Websites that are…
It is not secure
Looks old
It takes a while to load
Searchers will likely return to the SERPs to find another website.
Search engines are constantly updating their algorithms to improve site quality.
Google recently announced that they will release a new update in 2021. This update will focus on "Page Experience" and their bots will favor pages optimized for user experience.
Google's "The Page Experience Signal" measures elements of users' perceptions of the user experience when interacting with a webpage.
Optimizing the web for these factors makes it more enjoyable for users across all web browsers, surfaces and devices. It also helps sites develop towards mobile user expectations.
This is what we believe will help businesses succeed on the internet as users become more engaged and can transact without friction.
Google will evaluate the usability of a website.
Google is committed to providing the best possible user experience to its users. Sites that are more engaged and have strong user experiences will be given higher SERP rankings. Do your research before you start to redesign your website. Hire web designers who have experience building websites for companies in your industry.
#5: Improve Webpage Load Time
Studies show that almost half of all visitors will leave a site that takes more than 3 seconds to load.
In the meantime, a one second delay on page load times yields:
11% less page views
Customer satisfaction drops by 16%
Conversions lost 7%
Today's consumers are impatient.
Searchers leaving your site due to slow loading times are a sign that you're losing out on potential leads and customers.
Slow load times directly correlate to revenue lost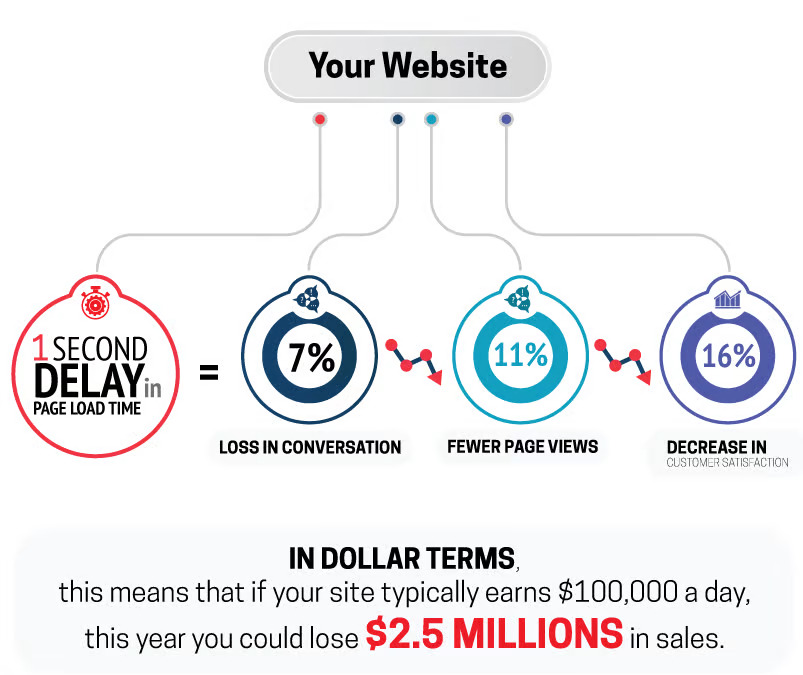 #6: Design Mobile-Friendly Websites
Mobile accounts approximately 50% of all web traffic globally.
The third quarter 2020 saw mobile devices (except tablets) generate 50.81% of global website traffic and have remained around the 50 percent mark consistently since 2017.
A successful organic SEO campaign will depend on your website being mobile-friendly. SEOReseller offers fully managed SEO services, which allow us to take care of all the hard work needed to rank your website.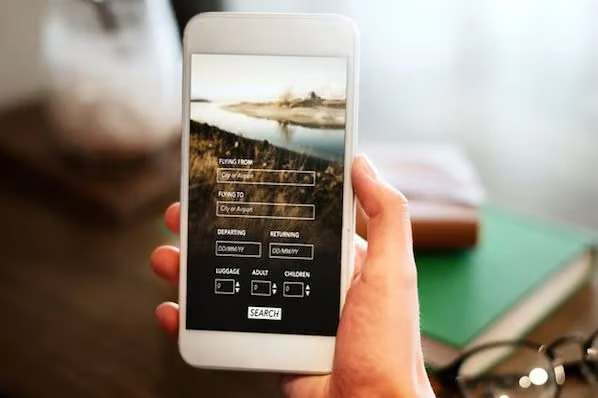 Get with our white-label SEO
Pre-packaged SEO workflows that are results-driven
Expert support available 24/5 to take care of all aspects of your campaign, from intake through fulfillment
Monthly reporting with a dashboard in real time, branded as yours
Contact our experts for pricing.
#7: Optimize Your Technical SEO
Although you could optimize your entire site for strong organic SEO results, without proper technical SEO practices, it is possible to not be on page one.
This technical health check will include
Site security
Recognizing crawl errors
Mobile-friendly sites are important
Fix broken links
Site loading speed
Examine the URL of a website
White Label SEO Agency are experts that can analyze any website's technical SEO performance to ensure that it is user-friendly and offers a positive user experience.
#8: Optimize for Local Searches
Optimizing your website for local SEO means making technical changes to improve your company's ranking in local searches.
These are the changes:
Your Google My Business is activated and updated
Local landing pages
Local SEO strategies that use technical SEO
Local searches are booming and businesses have a great opportunity to rank locally. This will help them get more local traffic.
Local SEO includes
Optimization of Google My Business for the company
Optimizing the website for high-authority localized material;
For maximum authority, it is important to maintain and build local listings.
#9: Formulate a Backlink Strategy

A successful organic SEO strategy will require a solid backlink portfolio.
It is important to remember that backlinks can be created and weighed differently by Google.
Links to older sites with lower domain authority and high-quality backlinks are the key.
A diverse link profile will ensure your website looks natural and follows Google's guidelines. Your SEO foundation can be strengthened by backlinks. Link-building services are available if you don't know enough about this technique to ensure that your website is managed by professionals.
Profiles with "spam" websites and/or excessive high-authority sites could be flagged.
Are you looking for the best organic SEO strategy? SEOReseller's SEO Specialists Can Help
SEOReseller is more than a reseller — We are an SEO platform.
To display your campaign results, you can create your own platform.
No matter what your…
An owner of a business who knows the importance and whereabouts of an effective organic SEO strategy, but is unsure how to get started
or
You are an agency that has clients of your own. Are you looking to increase your bandwidth, but need help scaling up your business?
SEOReseller is available to assist you.
Our managed SEO services include everything you need to rank websites and drive traffic.
A website audit
Keyword research
Optimization on-page
Analytics tracking
Link building
Content creation
More
These are just a few of the industries we specialize in. Our SEO Management Services can take care of everything, from planning to optimization to reporting.
Call us now to speak with one our experts.